It's that time of the year again… party on!
When it comes to music festivals, the UK is where it's at! Eagerly anticipated not only by local music fans, tourists will flock from all over the globe to join in some summer festival fun.
With a range of vans suitable for festival hire—whether for large production equipment or a group of excitable friends – H&H has the perfect mode of transport!
Minibuses
Suggested Use: tourists, small groups, music acts

Specifications:
9, 14 and 17-seater options
Fitted with three-point seatbelts
Fully air-conditioned
CD player
Turbo diesel and power steering
Our minibuses are a great choice for larger numbers of people who are travelling over a reasonable distance to music festivals! We also allow tourists to hire our minibuses, as long as they are over 25 and holding a D1 driving licence!
Crew Vans
Suggested Use: production teams, bands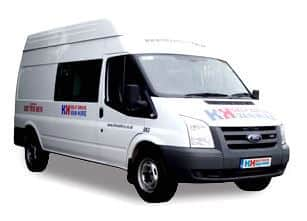 Specifications:
6-seater
Fully air-conditioned
CD player
Turbo diesel and power steering
Need to transport fragile equipment or personal musical instruments? Our Crew vans are the ideal choice! Seating 6 people, including the driver, there is still plenty of room for any additional equipment.
Luton Box Vans & Long Wheel Base Vans
Suggested Use: stall holders, festival props, costumes

Specifications:
3-seater
Fully air-conditioned
Turbo diesel and power steering
Tailback lift for Luton Box Vans
For larger and heavier items, our larger van hire solutions might just be the answer. Our Luton box and long wheel base vans are specially designed with a longer body and higher roof that can fit in huge festival props and equipment. The Luton Box Van has a tailback lift that will make it much easier to load heavy items.
The summer sun has just begun (did someone forget to tell the weather that) and we all can't wait for some festival fun! It's a top gig… so arrive in style with best van hire service in London!
Phone us on 020 7916 6616 with any enquiries. Let me hear you make some noise!