If you're looking to hire a van, there are many questions you might need answering before you go ahead. Whether you're transporting large items from one place to another, or planning to move house, there are several factors you should consider when it comes to van hire.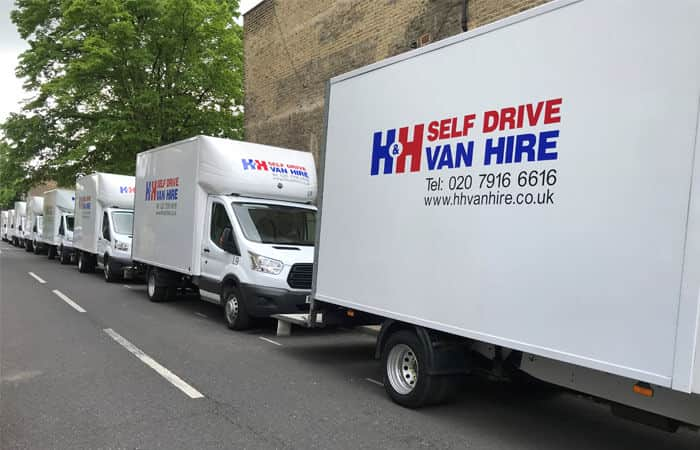 Read on to find out the most Googled questions – and the answers – for van hire…
How much is it to rent a van for a day?
The cost of hiring a van for one day can vary, depending on the type of vehicle. The size of the van is a major contributing factor. If you hire a bigger van, you will probably need to make fewer trips. A fixed price day rate is ideal for a job that requires making multiple drop-offs, such as when you're moving house. It enables a more flexible timeline – an advantage when you're making repeat trips back and forth.
Can you hire a van at 24?
Some van rental companies stipulate you must be 25 to hire a van, but it pays to shop around and do your research before you book. A good van hire company will let a driver hire a van from the age of 21, as long as they have held a full UK or EU licence for more than two years. You should also look for one that doesn't charge extra for drivers under 25.
What is the largest van you can hire?
The Ford Transit Luton has a load space that is three times larger than a standard transit. With a load space of 2 metres wide, 4m deep and 2m high, if you're planning a house move and have lots of large furniture items, this would be an ideal choice.
What size van can I drive on a normal licence?
You can drive all vans up to 3.5 tonnes, as long as you have a standard car driving licence. If you're planning to drive certain larger vehicles, including 7.5 tonne vans, you may need to take extra tests if you passed your driving test after 1st January 1997.
What does B mean on a driving licence?
When you pass your driving test, you will see a category B on your new driving licence. A B1 licence category means you can drive motor vehicles no larger than 550kg. A C1 category driving licence allows you to drive a large goods vehicle, weighing between 3,500kg and 7,500kg.
Is driving a van hard?
The prospect of getting behind the wheel of a large van may seem daunting – but in reality, it's no harder on the whole than driving a normal car. If you're feeling nervous, practice some manoeuvres on a quiet road or in a car park before setting off on your journey, as it's important you get used to the size of the van and feel confident driving it.
How much weight can a 3.5 tonne van carry?
Traditionally, a 3.5-tonne van will have a payload up to 1,500kg. For optimum safety, operators need to take into account the load positioning within the van when loading up.
What happens if my van is overweight?
Even a heavy-duty model can have problems with a load that's too heavy. Apart from making driving more difficult and potentially hazardous, there are legal issues to consider. If you drive a van so overloaded that you're creating a hazard for other motorists, you can be stopped by the police and charged with dangerous driving.
H&H Van Hire has a wide range of high-quality vans for hire at competitive rates. Give us a call on 020 7916 6616, or use our quick online contact form for further details of our van rental packages. Oh, and if you have any further questions, please do not hesitate to let us know!