As an H&H Van Hire customer, it's not just about choosing a van of your liking and driving it off into the sunset: we ensure that our customers get exclusive H&H perks – because we wouldn't be here without you!
We take great pride in our complimentary offers and services that are part of our all-inclusive price promise:
Complimentary Refreshments
If you visit H&H HQ to settle your bill, pick up your vehicle or to simply enquire about our services, you will be welcomed with our tasty refreshments – free cakes, sweets, tea and coffee!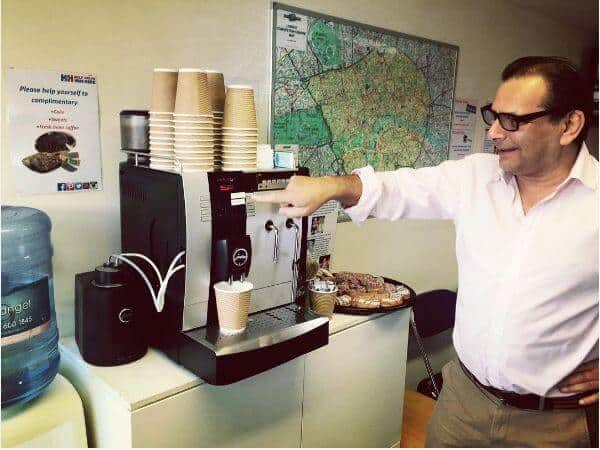 A loyal H&H customer enjoying a cup of coffee and a fresh doughnut
Accessible Location
One of the best things about H&H; we are conveniently located by the Kentish Town Northern Line tube station! A short walk for our customers who travel in via train, we are also easily accessible along Bartholomew Road.
For further directions, please refer to our map.
Regularly Checked & Cleaned Vehicles
We conduct a 6-month service and we also check all vans at 10,000 mile intervals to ensure that they are in tip top shape. We are all very hands-on and we insist that all our vans are spotless before and after every rental!
Our vans are also serviced by Tail Lift Services; guaranteeing that every hire vehicle is fighting fit and ready for action!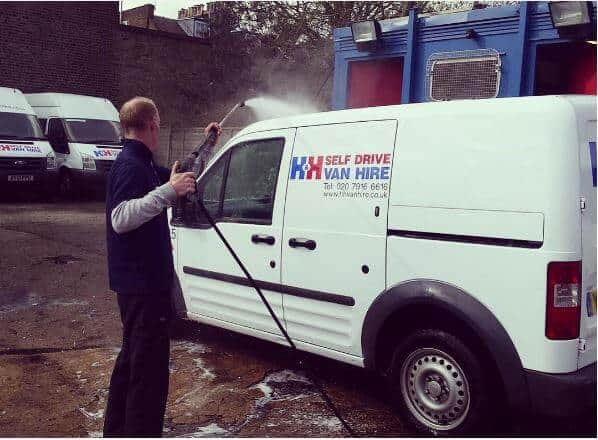 A member of the H&H team jet washing a Ford Connect before it goes back out for hire!
Up-to-date Van Features
All of our vans are equipped with advanced features. Powered by turbo diesel engines, they are complete with power steering, ABS, AM/FM radios and CD players for a safe and enjoyable driving experience. Some of our vans also have an auxiliary input for portable and mp3 players.
Dedicated & Reliable Team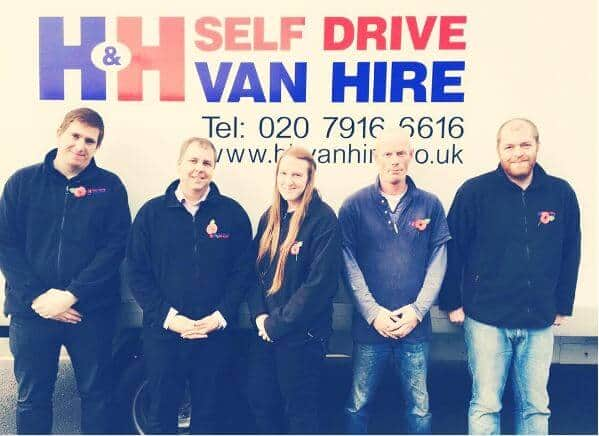 Some of the crew – a lovely looking lot aren't we!
What is a quality van hire company without its outstanding team? We pride ourselves on our highly experienced team – each and every one of us is 101% attentive to each and every client's needs. From the initial enquiry right up to the safe return of our hire vans, we are always happy to assist you.
Still not convinced…? See what some of our clients have to say about the H&H team in our testimonials section.
We are firm believers that good service equates to a good business! For the best van hire services in London… you know where to come!