Spending more than your allotted budget on your first ever van hire experience is acceptable given that you were not yet aware of the negotiation process and hidden extra charges. However, by your next hire van outing, you should have learned from your previous mistakes.
To keep things more cost efficient, keep in mind these practical tips:
1.   Compare Rates
It is always good to conduct some research – and some more research – if you want to get the best van hiring deals. Don't even consider the last van hiring company you used if you think they might have ripped you off.
Cheap, all-inclusive and with no hidden extra charges, H&H Van Hire offers rent a van in London services. We also serve in nearby areas such as Holloway, Islington and Central London. We'll take good care of you!
2.   Book Early, Pay Early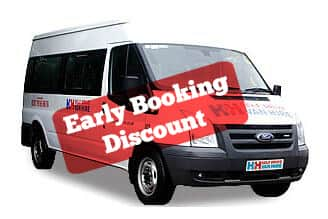 Some van hire companies offer a little discount for those who prepay weeks before their planned hire. If you already have an allotted budget, it is probably better to pay early to save a little.
3.   Negotiate Personally
When searching the Internet for the best prices available, you may have considered contacting the company. Rather than asking via text, email or call, why not pay them a direct visit and consult with them personally? Ask, negotiate and try to secure the best possible rate.
4.   Consider What You Really Need
Sales people are really good at talking and we often end up purchasing an item or service without giving it a second thought. When offered any extras, consider if you actually need them. If not, learn how to be practical and refuse the offers.
5.   Follow the Conditions
Don't get too excited and just drive off on the day of your hire; you might want to run over the conditions such as returning hours, limited number of drivers and location limitation required by the company. If this was done during the transaction, you may spare a little time to clear things up and ask questions for clarification purposes.
Secure the best rent a van London deal and have a safe trip!