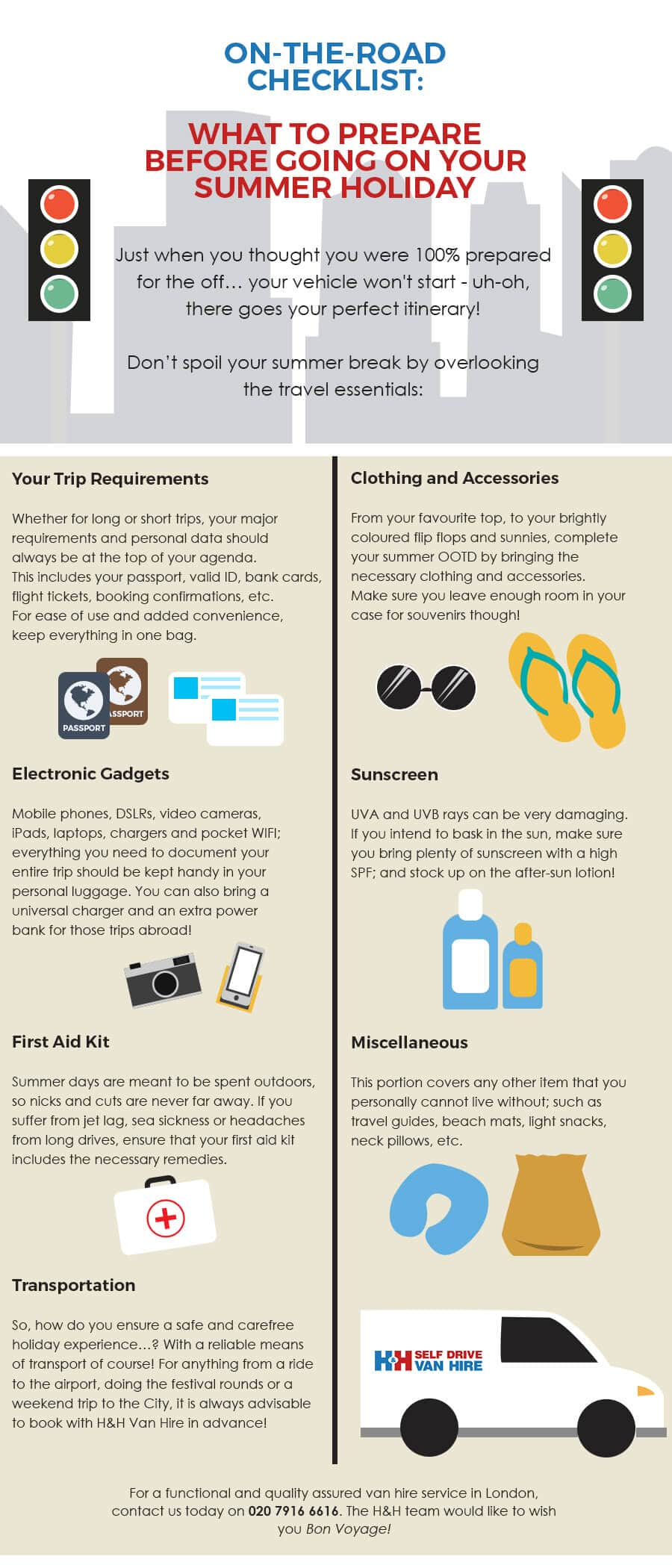 Just when you thought you were 100% prepared for the off… your vehicle won't start – uh-oh, there goes your perfect itinerary!
Don't spoil your summer break by overlooking the travel essentials:
Your Trip Requirements
Whether for long or short trips, your major requirements and personal data should always be at the top of your agenda. This includes your passport, valid ID, bank cards, flight tickets, booking confirmations, etc. For ease of use and added convenience, keep everything in one bag.
Clothing and Accessories
From your favourite top, to your brightly coloured flip flops and sunnies, complete your summer OOTD by bringing the necessary clothing and accessories. Make sure you leave enough room in your case for souvenirs though!
Electronic Gadgets
Mobile phones, DSLRs, video cameras, iPads, laptops, chargers and pocket WiFi – everything you need to document your entire trip should be kept handy in your personal luggage. You can also bring a universal charger and an extra power bank for those trips abroad!
Sunscreen
UVA and UVB rays can be very damaging. If you intend to bask in the sun, make sure you bring plenty of sunscreen with a high SPF; and stock up on the after-sun lotion!
First Aid Kit
Summer days are meant to be spent outdoors, so nicks and cuts are never far away. If you suffer from jet lag, sea sickness or headaches from long drives, ensure that your first aid kit includes the necessary remedies.
Miscellaneous
This portion covers any other item that you personally cannot live without; such as travel guides, beach mats, light snacks, neck pillows, etc.
Transportation
So, how do you ensure a safe and carefree holiday experience…? With a reliable means of transport of course! For anything from a ride to the airport, doing the festival rounds or a weekend trip in the City, it is always advisable to book with H&H Van Hire in advance!
For a functional and quality assured van hire service in London, contact us today on 020 7916 6616. The H&H team would like to wish you Bon Voyage!