While London is mostly known as a city with fabulous shopping locations and tourist attractions, you may be surprised to learn it's also home to some great fishing spots. The city has some hidden gems! Many are established at traditional venues, which differ from the large commercial fisheries dotted up and down the UK.
Read on to find out more about London's top five fishing destinations.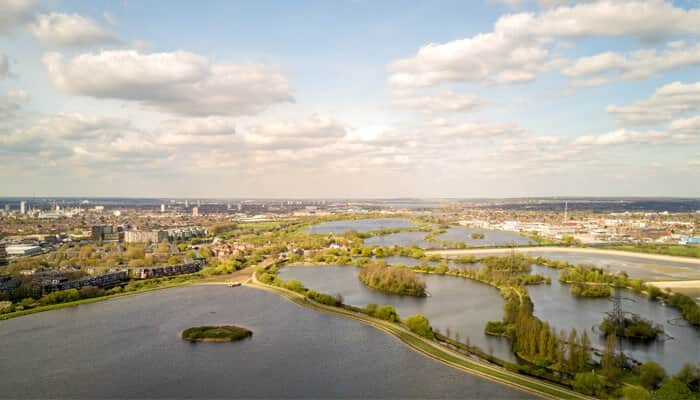 © pxl.store / Adobe Stock
Walthamstow Reservoirs, Tottenham
This anglers' paradise is located in Tottenham, on the longest river in England, the River Thames, between Tottenham Hale and Blackhorse Road.
There are ten reservoirs in total, all of which are frequented by bird watchers looking for herons and cormorants. Anglers can fish for freshwater coarse fish in reservoirs one, two and three, where they can catch bream, chub, mirror and common carp, eel, pike and perch.
In reservoirs four and five, you can use a fly-fishing rod to catch (and release) brown and rainbow trout. Anglers can spend £15 per adult on one day's fishing and there is a three-rod limit. An evening session costs £8 per person. Regular anglers can purchase a season's pass.
Make sure you have the correct storage box for your angling gear and bait. In the cold weather, it's important to make sure your gear remains dry.
Perch Pond, Wanstead
Although it's known as Perch Pond, the lake contains more than just perch. You will also find a selection of coarse fish, including bream, dace, gudgeon and roach. Located on Warren Road, in the Grade II listed Wanstead Park, Perch Pond is one of the most historic ponds in London.
Constructed between the 1720s and 1740s, it first appeared on a map in 1735. It was established alongside several other ornamental bodies of water in the early 18th century and is known as a local beauty spot, as well as a top destination for anglers.
Perch Pond is home to carp of up to 30 lbs. Managed by Redbridge Council, as with all managed lakes, anglers must return the fish after catching them – only barbless hooks are permitted.
Shadwells Pool, Barnes
Located at Queen Elizabeth Walk, in southwest London, Shadwells Pool is a well-established lake with plenty of carp and a wide range of coarse species, including eel, roach, rudd and tench. The estate lake has good cover in the form of woodland and trees. It spans 1.5 acres and has a choice of 55 pegs, with several suitable for disabled anglers.
There are certain rules governing Shadwells Pool: anglers may use only two rods and night fishing isn't allowed. Fishing can begin at dawn, but must finish at dusk. Anglers may use no more than 1.5 kilos of ground bait and 0.5 kilos of boilies. Only barbless hooks are allowed and all anglers must have a landing net and unhooking mat.
The water is owned and managed by Barnes and Mortlake Angling and Preservation Society and membership is required in order to fish there.
Tooting Common Pond, Wandsworth
Tooting Common Pond is a well-established and well-stocked lake that rewards anglers with a great day's fishing. The venue is popular among local anglers, thanks to its diversity of species, including bream, carp, gudgeon, perch and roach.
Carp are plentiful and there are proper pegs in place – an unusual bonus at a park lake. The water is fairly shallow and the pond is easy to access, making it a popular destination for anglers of all abilities. The vegetation is well managed, providing plenty of overhangs as useful places for the fish to congregate.
Experts recommend floating baits including small pellets, sweetcorn and maggots in summer to attract the carp, and worm to attract the perch. In order to fish at Tooting Common, anglers will need to apply for a fishing permit from Wandsworth Council and will then need to purchase a day ticket.
Keep bait and smaller fishing tackle secure with a portable storage box that has handy compartments and trays to separate the different types of bait.
Burgess Park, Southwark
Burgess Park was created in the middle of a built-up area to provide recreational facilities for local residents. The fishing lake was redesigned during 2012 and 2013, creating a scenic environment for anglers, who can pass the time of day surrounded by the reed beds, bulrushes and water mint.
The most common species found here is carp, but there are also abundant supplies of tench, bream, rudd, roach, perch, catfish and dace. There are several different sub-species of carp, such as common, ghost, mirror and koi.
Anglers must have a rod licence in order to fish at Burgess Park. They also need to buy a day ticket from Southwark Council. You must have a landing net of 36 inches minimum and also an unhooking mat, as there's the chance of catching large carp. There's an area at the side to erect a shelter. All fish caught at the lake must be returned to the water.
Looking for a Christmas gift with a difference for the angler in your life? You could purchase a day pass for Burgess Park and a marine dry box to store their fishing gear – they'll be blown away!
If you're planning a fishing trip in London with friends, it pays to hire a van between you as a cost-effective and convenient way to travel. H&H Van Hire's self-drive, six-seat crew van will comfortably carry passengers and equipment – you will reach your destination in comfort and safety. Give us a call on 020 7916 6616 for more details.