Jam packed full of a host of fun activities for all the family, Hyde Park will be one of London's major visitor attractions this Christmas, thanks to its Winter Wonderland festive event, which has returned bigger and better for 2018.
Hyde Park always pulls out all the stops when it comes to Christmas – and since Winter Wonderland made its debut in 2007, thousands of people have been pouring into the capital to enjoy what has become one of the biggest Christmas events in the world.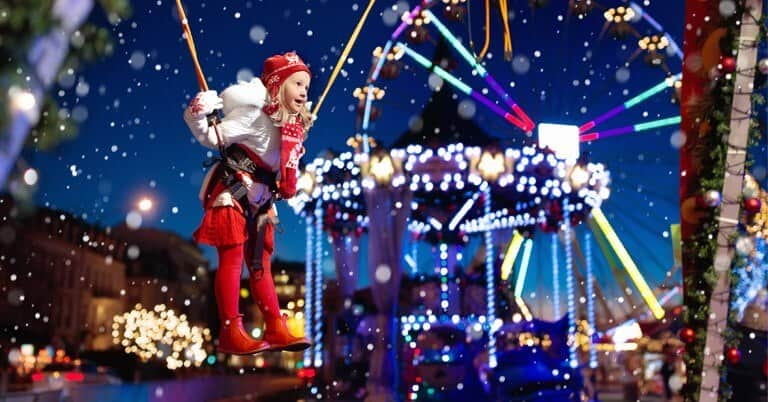 © famveldman / Adobe Stock
What is Winter Wonderland?
Winter Wonderland has been helping people to get into the Christmas spirit for more than a decade. With free admission, it's a family event that features a host of festive activities, including circus shows, ice skating, a giant wheel and a special Christmas market.
Hyde Park's Winter Wonderland 2018 gives visitors the chance to skate to live music on the UK's largest ice rink. The Winter Wonderland rink also hosts world-class skaters the Imperial Ice Stars who perform a live show, Peter Pan on Ice, for all the family. Meanwhile, a host of mythical creatures made from snow and ice are on show in the Magical Ice Kingdom's Secret Forest.
Marvel at the acrobats performing daring feats at Cirque Berserk and Zippos Christmas Circus and enjoy the thrills of the funfair, where visitors can brave nine rollercoasters and the giant loops! The giant observation wheel enables you to soar into the sky and see the sparkling lights and attractions below and across London.
There are also interactive workshops where people can create their own ice sculptures. Meanwhile, The Snowman Experience, presented by the Backyard Cinema, is an amazing cinematic extravaganza for people of all ages. Younger kids will enjoy the Teletubbies' Christmas Show.
Christmas markets
Winter Wonderland's Christmas markets are among the largest of their kind in the capital, featuring more than 200 chalets full of festive wares.
There is also an Angels Christmas market, where shoppers can purchase unique and unusual gifts, craft items, jewellery, trinkets and decorations.
A feast of mouth-watering smells wafts across the park, with a bevy of festive food and drink to choose from – including food on the move, a full sit-down meal or a Christmas drink at one of the many eateries and bars at the site.
German foods such as traditional sausages are on offer in the Bavarian village, while the amazing Bar Ice features a bar and tables that are all made out of ice – so wrap up!
Warm and inviting, crackling fires at the Fire Pit Bar welcome you to enjoy some live music. If karaoke is your thing, try the Bar Hütte, where you can also enjoy Christmas cocktails and cuisine.
Meet the man himself!
It wouldn't be Christmas without Santa's Grotto! Come and meet the jolly man in red at Winter Wonderland's festive grotto. Children will receive a small free gift if they've been good! There are also some fun rides for small children.
From 10am- 10pm, Winter Wonderland is open every day except Christmas Day, until 6th January 2019.
As an ideal way for groups to travel this Christmas, arrive in style at Winter Wonderland in a minibus from H&H Van Hire. Please contact us for details of our comfortable nine, 14 and 17-seater minibuses.