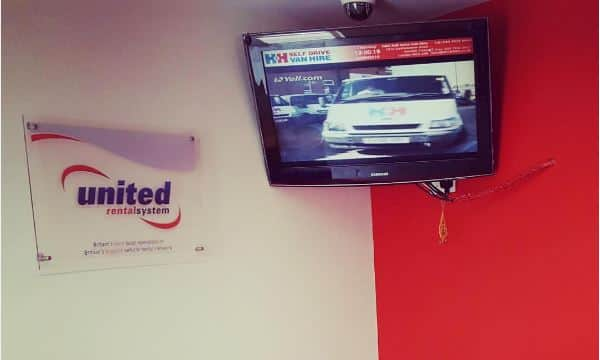 The United Rental System plaque proudly hung in the H&H reception area
After our remarkable membership with the British Vehicle Rental and Leasing Association (BVRLA), we have decided to further expand our connections – as we sign a contract with United Rental Systems! We are now officially a licensee of this well-recognised licensee network in the UK! Yet more proof that our growing fleet is exceptional in both price and in service.
What is United Rental System?
Currently operating in over 590 locations in the UK, United Rental System is a licensee network which is comprised of over 540 independent vehicle companies.  The rental fleet covers all sorts of vehicles – from cars to minibuses, to refrigerated vans and cherry pickers.
United Rental System aims to make the hiring process easier and safer for everyone by ensuring that you are dealing with an accessible and trusted hiring company.
H&H Van Hire as a United Rental System Licensee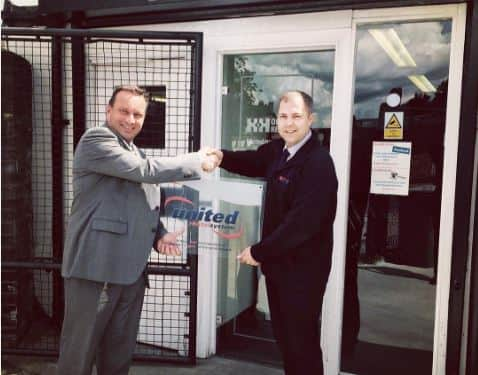 H&H Van Hire's Rickie shaking hands with Nick from United Rental System
Not everyone can become a United licensee, as you are required to go through a rigorous process to officially represent the network. We are proud to say that H&H Van Hire has conquered all! Some of the screenings we have passed include:
Mystery shopped by United Rental System
Careful and critical quality inspection of the vehicles
14-point pre-entry criteria screened by United's senior management team
This also gives us a stronger brand identity that enables us to present H&H Van Hire to our loyal customers and introduce our services to prospective clients as a leading rental operator. Being a United licensee also means that we are afforded greater connections and opportunities to collaborate with large organisations – expanding our knowledge further when it comes to vehicles and hiring services.
How does this benefit the Customers?
More than the prestige it provides, it is the customers who will really benefit the most – H&H is able to assure a more modern fleet over our competitors! Other plus points include:
Easier Locating of Branches
United licensee establishments can be found in most major towns and cities – this also includes the rural areas where other networks are not able to operate.
Incomparable Customer Service
For companies whose reputation has been built on trust, customer service is a necessity if you want to achieving loyalty. All hiring companies that make the grade focus on delivering an exceptional service to the customers, at value-for-money costs.
Continuously Growing Fleet
With a combined fleet of over 81,000 vehicles, you will never run out of choices – whatever your vehicle requirements might be. At H&H, we too are constantly adding to our fleet to meet the needs of our customers; whether for commercial, educational or leisure purposes.
With our feet planted quite firmly on the ground, we totally accept that our success is born from the loyalty of our clients… thank you! We will continue to strive to improve our services because that is what we believe the customer deserves. If you have any further enquiries about our van hire services in London, please call 020 7916 6616… we'd love to talk to you.