Fishing in France is becoming increasingly popular, thanks to the astounding number of well-stocked lakes. Anglers looking for something different can choose from a diverse selection of intimate pools, inland "seas", easy lakes… and others that are best left to the experts!
Accommodation varies greatly too, from basic campsite quality to luxury villas. Between the port of Calais and the south of France, there are hundreds of lakes. As the most popular species, carp attracts anglers from England, Germany, Belgium and Holland, as well as from across France.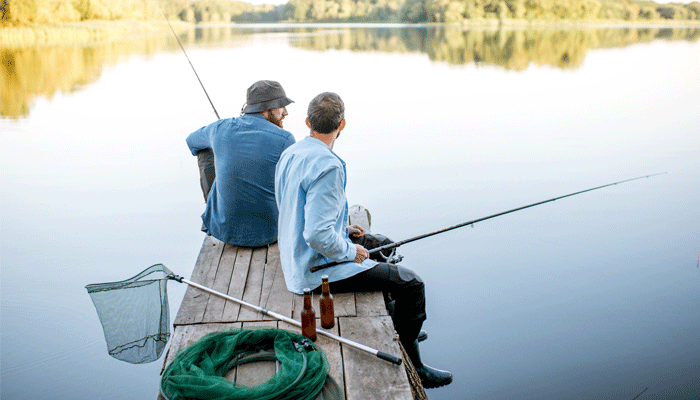 © rh2010 / Adobe Stock
Whether you're an experienced angler looking for some thrills, or a beginner on their first fishing holiday, France is a beautiful destination, where you'll enjoy the picturesque scenery as much as anything else!
Brocard
Brocard is located within the scenic woodlands of the Champagne region. Created for anglers by the famous fish farming Bachelier family, the complex consists of two lakes, known simply as Brocard Large and Brocard Small.
The larger lake measures a mighty 39 acres and has an abundance of wildlife. It boasts a great stock of carp up to more than 50 lbs and sizable catfish. If you're looking for larger than average carp in natural surroundings, this is the ideal place.
Measuring around 29 acres, the smaller lake is long and thin. It also has a lot of incredible carp and catfish up to 110 lb.
The complex is a four-hour drive from Calais, passing through some of the most picturesque countryside in France – a reliable self-drive van is crucial. Take your camping gear if you're going to Brocard, as there are only two communal cabins. One has table and chairs and the second has showers and toilets. There's hot water 24/7 and charging points for mobile phones. Open all year round, Brocard often has special offers if you go out-of-season.
Salles
If you're looking for a wild, natural lake, Salles is ideal. The 42-acre lake is lined with reeds and is a truly beautiful place. A four-hour drive from Calais, it boasts six double swims, well-spaced around the lake. If you're taking a party of 12 anglers, you can book it exclusively.
It's not good for people who are daunted by large stretches of open water, but it offers a great opportunity to fish in an authentic carp-fishing lake, where the fish are up to 57 lbs.
Although the lake is wild, thankfully the facilities aren't! Accommodation includes a wooden cabin for two people or a mobile home that sleeps four. Cooked meals are available and there's a modern sanitary block. It's open all year round and boat hire is on offer too.
Jonchery
Jonchery is a very popular location for carp fishing, as it features a stunning 30-acre lake. Nestling deep in the Champagne region, around three hours and 40 minutes from Calais, the complex has a fantastic reputation. It has been a prime fishing venue for many years and is known for providing enjoyable carp-fishing holidays.
With six large double swims, the action is usually prolific, thanks to a stock of carp that weigh 40 lbs plus – including around 350 large, healthy mirrors and other common species. You can pre-book swims for up to 12 anglers.
Facilities include toilets, showers, a living area with benches and a table and a kitchen with appliances including a freezer, refrigerator, cooker, dishwasher and microwave oven. Breakfast and evening meals can be ordered. Jonchery is open all year round and out-of-season special offers are available – check online.
Barringtons
This family-friendly fishing complex in Montier-en-Der is a four-hour drive from Calais. An eight-acre lake, situated in a natural landscape within a rural setting, is a "get away from it all" kind of venue that is ideal for parties of four to six anglers to hire exclusively – it can be booked for smaller parties too.
Accommodation is a wooden cabin at the lakeside, with a twin bedroom and a sofa bed, so it can sleep up to four people and is suitable for a family. When you book the lodge, you can use the seventh swim to the side.
There are more than 120 fish in the lake including mirror, common and grass carp, some of which are mature and fairly large. Fishing here is a tranquil experience, thanks to the scenic setting.
Guests can order the optional food package in advance. Boat and tackle hire is available, including day chairs and bed chairs. The complex is open all year round and there are special offers available out of season – between November and March.
Beaurepaire
Known for having plenty of massive carp, Beaurepaire is two-and-a-half hours' drive from Calais. Described as a "well-kept secret" by anglers who have fished there, it isn't one of the busiest venues, which is surprising. The seven-acre lake is in a beautiful natural gravel pit, with a good stock of carp, many of which are more than 60 lbs.
Ideal for a party of up to six anglers, it's possible to hire the lake exclusively, although individual bookings are accepted too. The water can vary in depth at different periods throughout the year, becoming up to three metres deeper if the nearby River Aisne floods during the winter. As a result, the landscape, including the banks, can look different, depending on the time of year.
The exciting thing about fishing here is that the number and size of the mirror and grass carp is largely unknown. There may be some huge individuals lurking in the lake, as some were reputedly supplied in 2003 by a company who added gravel to improve the fishing experience. Over the years, more fish have been added and there are thought to be upwards of 350. The Beaurepaire complex is open all year round.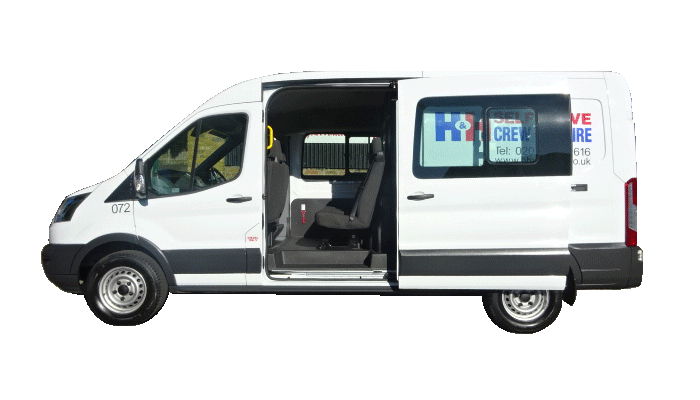 You don't have to be a fantastic angler to enjoy driving over to France and experiencing some of the best fishing in Europe. You don't get many holidays each year, so if you enjoy fishing, why not try something different across the Channel? Contact H&H Van Hire for information on our reliable self-drive vans for hire.